Recipe: Tasty Cinnamon Rolls (No Yeast)
Cinnamon Rolls (No Yeast).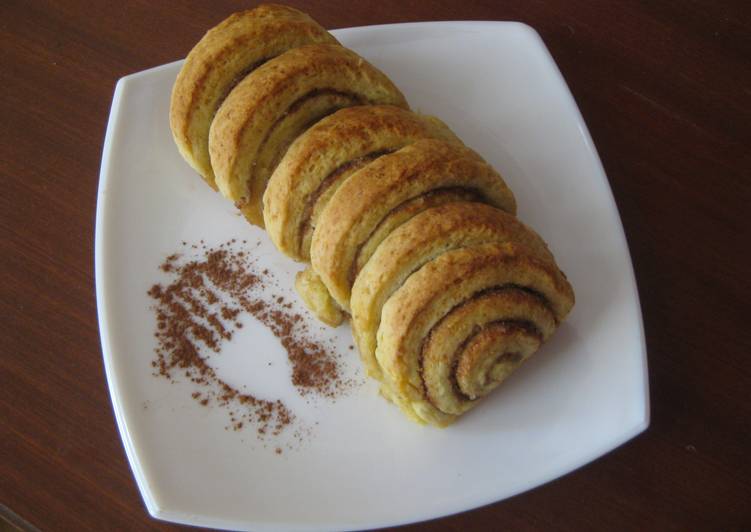 You can cook Cinnamon Rolls (No Yeast) using 14 ingredients and 13 steps. Here is how you achieve it.
Ingredients of Cinnamon Rolls (No Yeast)
You need of Flour.
It's of Sugar Powdered.
It's of Baking Soda.
You need of Baking Powder.
Prepare of Salt.
You need of butter , cold , unsalted , cut into cubes.
Prepare of Egg (beaten).
Prepare of Buttermilk.
Prepare of Vanilla Essence.
You need of Sugar.
Prepare of Brown Sugar.
Prepare of Cinnamon , ground.
You need of butter , melted.
It's of Salt.
Cinnamon Rolls (No Yeast) step by step
Preheat oven to 200 degrees C. Line a square baking tine (preferably 8x8) with parchment paper.
In a small bowl, make the filling by mixing all the sugars, spice and salt in the quantities mentioned under the heading "Filling". Keep aside.
Whisk or sift the flour, sugar, baking powder, baking soda and salt so that they are mixed evenly.
Add the cubed pieces of cold butter into the dry ingredients mentioned in step 3 and use a fork or your hands to mix until it resembles a coarse mixture..
In another bowl, beat lightly - the egg, milk and vanilla. Add this to the mixture from step 4 all at once and stir it to make a soft dough.
Turn the dough onto a lightly floured surface and knead for about 2 minutes..
Wrap the dough in cling film and rest it in the fridge for about 15 minutes.
On a well floured surface, roll the dough out to a thickness of half an inch.
Brush the rolled out dough with melted butter and then sprinkle the filling (set aside in step 2) on top of the dough brushed with the melted butter.
Roll one vertical side into a tight roll.
Using a sharp knife, cut the roll into 1 inch thick slices.
Place the slices in the prepared baking pan so that the spirals face upward. Brush the tops with the remaining melted butter.
Bake for 13 to 15 minutes until the top becomes a light golden brown. Serve warm.